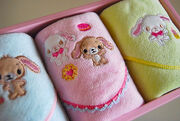 A washcloth is generally a smaller cloth, often of absorbent toweling, designed for cleaning. They can be for cleaning people, dishes or other things.
A washcloth is very similar to a towel, but smaller than most and intended to be used wet or damp. It is used to wet and soap, rather than a towel that is used to dry, usually after cleaning. Washcloths may also be used to clean and exfoliate the skin, to create a warm or cold compress (by using it with cold water, around an ice pack or hot water).
Washcloths can make a good gift to a family with a new baby. The cloths are useful for cleaning up the baby and related messes. With a monogram or towel set, they can also be a housewarming or wedding gift. Washcloths can also be used for crafts, including washcloth puppets that can make wash time more fun and easier for small children.
Also known as: facecloth, washrag, dishcloth, flannel
Materials
[
]
A washcloth is usually made of a small square of soft terrycloth. Some people prefer a thick cloth, others a thin one.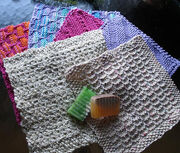 Related
[
]
References
[
]