The Victorian house style was at its most popular from around 1840-1900. The style started in England, but is found in Canada and the U.S. Victorian style is named after Queen Victoria who ruled the United Kingdom from 1837-1901. It has sub-categories of Gothic Revival, Italianate, Second Empire or Mansard, Victorian Stick, Folk Victorian, Shingle, Richardson Romanesque, Queen Anne, Eastlake or Octagon House styles [1]. The Victorian style came after a Greek Revival period where simplicity was emphasized. Perhaps in reaction, the Victorian style tends to be highly ornate with much decorative detail.
Characteristics
Edit
Common characteristics of Victorian Style homes are:
asymmetric
1-3 stories.
multiple gables
gingerbread (architecture), carved lintels, gilding
tower or cupola
irregularly shaped, steep roof
Optional or less defining characteristics include a porch, stained glass, a small round "peep" window on the front, spindles, pointed arches. The pastel, Mediterranean or beach colors that are common with Victorian homes are rare for most other styles (except perhaps for tropical or beach homes). These colors include pink, turquoise, lavender, grape.
The classic "haunted house" is a Victorian style home, or more specifically, a run-down house in the Gothic Revival style. The house (Halliwell Manor) on the TV show, Charmed, was a Victorian. On the opposite end of the spectrum, some Victorian homes are also called "Wedding Cake" for the decorative style and white or pastel colors.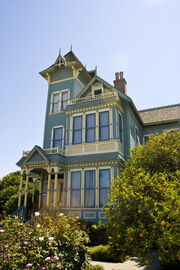 Other home styles:
See the article on haunted house on the Halloween wikia.
References
Edit
Many good sites about Victorian architecture are maintained by local groups or historical societies. Some have tours.
Community content is available under
CC-BY-SA
unless otherwise noted.