This page is a central, organizing article for unusual homes. The homes may be unusual because of their location, size (large or small), age or experimental design.
Homes are built over water, on cliffs, on steep hillsides, underground, in trees and many other creative places.
Many of the pictures shown on the reference sites are listed because of their odd shapes. Some houses are shaped to look like other objects: shoes, musical instruments, airplanes, and other vehicles. Other unusual homes have simple geometric shapes: rectangular blocks, ovals or domes, triangles or pyramids.
Homes vary from a "micro" size with under 50 square feet of floor space to tens of thousands of square feet.
Some homes are new and built to look modern; others are hundreds of years old.
New home designs are created all the time. Some are built to take advantage of new technologies. Some use technologies, such as solar power for the people who live there.
Related
[
]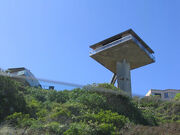 Some other articles about unusual types of homes are
compact houses, also called micro or micro-compact
houseboat, while usual in some parts of the world, for many they are not

International Space Station

historic home
External links
[
]
Commercial sites: