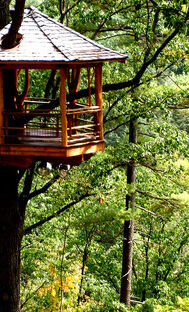 A tree can help to decorate a residence. Having trees on your property has both benefits and risks. For instance, they can provide shade, noise reduction, and protection from soil erosion. On occasion however, a tree can damage a home. The roots of a tree can damage the structure or plumbing. If the tree is close enough to a building, it can damage some parts of the building when the branches constantly brush against it.
Trees can provide... beauty: flowering fruit trees in spring or beautiful colored foliage in the fall. They can provide food: apples, pears, etc. Trees can provide shelter and privacy; they can delineate boarders between neighbors. Trees may be fun places to play -- climbing, tree houses, swings. Landscaping with trees that provide shade for the house can reduce your cooling bill. They may also add to the value of the house. Trees absorb noise and pollution. If you select the right kind of tree, the roots can protect against soil erosion.
However, trees can pose dangers by harming roofs or external wiring. They attract some pests and their roots can damage sidewalks, foundations, etc. Leaves from the trees may create additional raking and gutter cleaning chores. And in some cases a tree will draw enough nutrients from the ground that other plants may not grow well. Trees can provide access to windows or the roof for intruders.
You can make some trade-offs with the benefits and risks mentioned above, by carefully considering the kind and placement of trees. There are also other considerations, such as allergies to consider.
allergies - some people are allergic to some trees, especially when they bloom
speed of growth
placement and size when grown - will the branches grow where there is wiring? will they brush against the roof, which can damage it? will the roots damage the foundation of the house, driveways or sidewalk? will it grow too near the chimney where sparks could ignite a fire?
climate
leaves or fruit dropped - for instance, some trees have small leaves that do not require raking
September is the best month for planting flowering trees in much of the northern hemisphere.
Community content is available under
CC-BY-SA
unless otherwise noted.