A toy box or toy chest is a place to store toys. Generally it's for sturdy, younger children's toys that won't be harmed by being jumbled all together in a box.
Fragile toys or ones with many small parts are best kept other places, such as in boxes or on shelves.
Older toy boxes were usually made of wood. Now they are often plastic or wicker baskets (that go onto shelves).
Also called a "toy chest".
Considerations
Edit
Safety, especially for smaller children where toys with small parts can be a choking hazard or toys with gaps big enough to get caught in can be dangerous (see recalls for hockey goal nets), also be careful about exposed hinges that can pinch. Using a plastic storage box can also be a hazard. Small children may climb in and seal the top, which can be suffocating.
Fun
Age appropriateness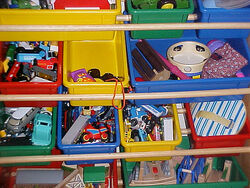 Community content is available under
CC-BY-SA
unless otherwise noted.