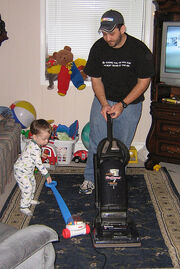 Stuffed animals are a popular children's play toy. In addition to being playthings, stuffed animals are sometimes given as gifts and may be used as decorations. Some people collect stuffed animals.
For very small children make sure their stuffed animals do not have small pieces the children or babies can pull off and swallow or choke on, such as glued on eyes or bows.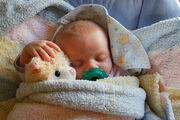 In addition to being a comforting toy for small children and babies, stuffed animals make good imaginary playmates or story telling aids for older children. And still provide a bit of warmth and comfort to older people. Some emergency services (firefighters, etc.) have stuffed animals and blankets to give to people caught up in emergency situations, such as after a house fire, to provide comfort.
Some stuffed animals are also popular collectors' items. People may collect specific brands, animals or kinds of animals, such as jungle animals or forest animals.
Stuffed animals are based on many different animals, both real and imaginary, and a blend of both. For instance, a stuffed animal may be based on a real animal, like a dog, but with a twist, like purple fur. Sometimes stuffed animals can provide a way to make a child feel safer in a potentially uncomfortable situation. For example, a stuffed cat wearing a doctor's costume, can help in a role play to prepare for a visit to the doctor's office or a hospital.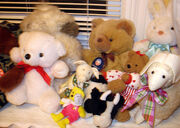 External links
Edit
Community content is available under
CC-BY-SA
unless otherwise noted.