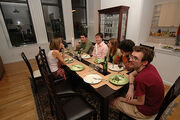 People often come together over special meals. The meals are used to celebrate. They may involve special foods or activities.
Please add your thoughts about special meals.
When one person is left with all the work involved in preparing, serving and cleaning up after a large special meal, it can become an onerous task. But when multiple people help out, it can become part of the festivities. You can tell the story about the time the dog ate Aunt Sally's pie while you're making dessert or about how everyone brags about Uncle Fred's chilli. Small children love to be invited to participate in the hub of grown up activities, and they can be very useful. They can help set and clear the table (carrying non-breakable items like napkins and spoons when they are very young and other items as they grow older. Even a small child can take drink orders one at a time. They can have fun licking the spoon and maybe even helping to decorate. Older children can help stir, measure and even preparing simpler dishes. Teens can be put in charge of a dish or an activity. Many picky eaters become less picky when they've helped to make something, and when that doesn't work, they can learn how and prepare another dish that they do like. If a child doesn't like baked carrots, he can peel raw carrot sticks as an alternative or cook another vegetable. Clean-up goes faster and can also be more fun when it's shared. Put on some festive music or sing. Have a special treat ready for as soon as the meal is cleaned-up -- a game to play, sledding, a walk, a movie -- just make sure it's something that is seen as a treat.
Community content is available under
CC-BY-SA
unless otherwise noted.