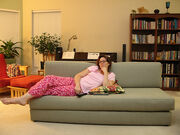 Sometimes the terms sofa and couch are used interchangeably. Sofa has slightly different connotations. For some people it is an "upper class" term. Sofa may also mean a lounge type seat which may not have a back, arm pieces on the sides or may have puffier cushions than a couch. A sofa may also be smaller, like a love seat.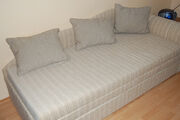 Some sofas contain a hide-a-bed or folded mattress (see fold-out-couch). Other sofas are fairly comfortable for sleeping without a fold out.
Naming variations
Edit
The term sofa comes from Arabic.
The Knole settee (sometimes known as the Knole Sofa) was a sort of deep throne seat. Davenport was a brand that was so popular that the term was used by some to refer to all couches or sofas. Divan, which was originally a mattress propped against a wall or framework to form a seat, has also become a term used to refer to a sofa or couch. Other terms include settee, chesterfield, and canapé.
Materials
Edit
The frame is often made of wood, but can also be metal. The cushions in modern sofas are usually made of foam. The cover or upholstery is usually fabric or leather.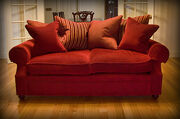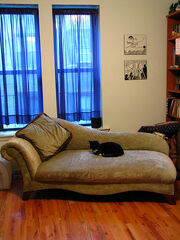 References
Edit
Sofa refers to furniture in the home context, but it also has other meanings including being an acronym. Wikipedia has a disambiguation page on sofas, but points to their article on couches as the main article for the sofa furniture topic.
Online commercial venders
Community content is available under
CC-BY-SA
unless otherwise noted.