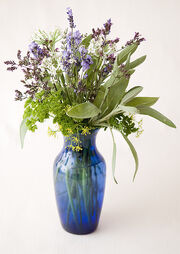 After the popular consumerism of the 1990s, simplifying is a popular concept these days. And this isn't the first time.
Quote


Simplicity of life, even the barest, is not a misery, but the very foundation of refinement: a sanded floor and whitewashed walls, and the green trees, and flowery meads, and living waters outside; or a grimy palace amid the smoke with a regiment of housemaids always working to smear the dirt together so that it may be unnoticed; which, think you, is the most refined, the most fit for a gentleman of those two dwellings?
-- William Morris, Speech, London (10 March 1880)
The basic idea is that life can be pleasanter when it's less busy and overwhelmingly full of stuff, events and activities, and when we focus on the things that are more important to us. A related concept is that one thing that we truly like is better than 5 of the same item for which we don't really care. So, one comfortable to hold mug, might be better than 3 which aren't as useful or comfortable.