A shower often takes less space and water than a bath. Or shower heads can be installed over a bathtub. Showers provide one way to keep clean.
Accessibility
Edit
There are several ways to make a shower more accessible. One is a walk-in (or even a "roll-in") shower -- rather than being in a tub, the shower heads are aimed toward a wall or floor drain. The exiting water can be controlled by walls, curtains or enough surrounding space and drains. There may be a small curb around the floor of the shower area, making some styles less accessible than others. A tub shower can be made more accessible by adding sturdy rails to use while stepping in (and may while to help someone who can't stand as long) or by adding a seat, especially if the seat is designed so some one can sit from outside the tub, then swing his or her legs into or out of the tub area.
Eco-friendly
Edit
A nice, warm, long shower can feel soooo nice, but it uses a great deal of water. There are water saving techniques to reduce the amount of water used. There are water saving shower heads, flow meters, flow limits and showering habits that save water use. A typical 10 minute shower uses 60 gallons of water. A "Navy shower" is one set of habits that can save water (see to Take a Navy Shower).
Like other places with pools of water, even very shallow ones, take precautions to avoid falls, electrocution, drowning or shock. Make sure sockets near tubs, showers and sinks have safety breakers. Install rails or hand-holds where necessary. Do not let babies, toddlers or small children shower or play in the shower unattended.
Enjoyment
Edit
A shower can provide a setting to provide relaxation, romance, a change in temperature or humidity.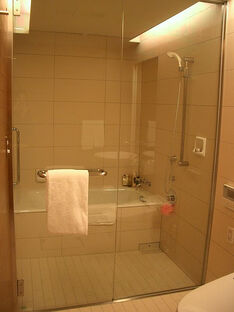 References
Edit
Community content is available under
CC-BY-SA
unless otherwise noted.