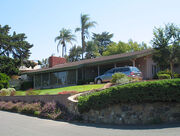 A ranch style house is loosely defined as a one with a simple, low to the ground layout, usually a single story house. It doesn't necessarily have anything to do with a ranch or farm. Ranch houses tend to emphasize horizontal lines, to be wider than they are tall with few decorative flourishes on the exterior. They were very common in the 1950s American suburbs.
In some places in the U.S. "ranch" is used as a short-hand to mean a one story house rather than referring to a specific style. Other terms for a ranch style house are American ranch, California ranch, ranch-style, rambler or rancher.
The ranch style developed out of the Prairie style pioneered by Frank Lloyd Wright, bungalow and Spanish colonial styles. Ranch style homes were popularized as suburbs were developed for returning solders after World War II. Architect Cliff May is credited with designing the first Ranch style home. Some of the "brand" or developer names that were popular were Lustron Homes, Eichler Homes, Levittown, Campi and Alexander Homes.
The roof tends to have a relatively low pitch. The overall home is usually rectangular, sometimes in an L shape or U shape. The garage is often attached and forms the short side of the L. Open rooms or rooms that are not completely separated by walls and doors are common. Windows are often large, and may include sliding glass doors to a porch or patio in back. As part of the "move to the suburbs" ranch homes tend to have tidy yards and the "newest" appliances and conveniences -- at least the newest that were available at the time they were built. Older ranch homes from the 50s run from about 1,000 to 1,500 square feet. Newer homes may be larger, but rarely have more than 3,000 square feet.
The neighborhoods or suburbs where they are placed tend to have a few plans -- perhaps a mix of bungalow or colonial style homes, with more variation in looks created by mirror images and rotations of the floor plans. But over time the homeowners build on additions, grow different plants outdoors and do other things that give more variety to their homes.
Variations on the basic ranch style include the raised ranch or split-level ranch.
References
Edit
Commercial sites:
Community content is available under
CC-BY-SA
unless otherwise noted.