Many people don't like the look of blank walls, so they hang pictures and other wall hangings (like quilts, tapestries or other decorative arts) on the walls.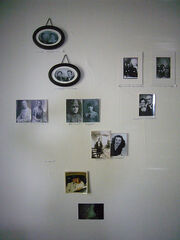 For some people, a place is not home until there are pictures of their family around them.
When adding a set of pictures to a wall, you can cut out pieces of paper of the same size (like from grocery bags) and shape from paper and tape or pin them to the walls to figure out how you want to lay out the pictures -- where and how you want them to line up.
Use a stud finder to identify places on the wall that can best support the weight of a picture.
Also see
Community content is available under
CC-BY-SA
unless otherwise noted.