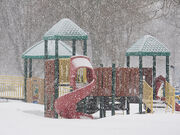 Is there a park near your home? Some parks have a playground for children, a ball game field and walking or running paths.
Parks can be used for recreation and fun for the parents and children with activities there for them to enjoy. Children can play in the basketball or soccer court or the playground, while the parents are able to join them or sit down looking at them from beyond. This can be a good idea to give adults rest or have a chat with friends.
Parks can be used for a place of tranquil thoughts in shades or bathing in the sun during the summers.
Some parks have dog walks. Some have grilling or picnic areas. Parks can be small neighborhood lots or grand national resources. Other features that parks may have include swimming pools, ponds or other waterways (some allow boating or fishing), rides, restaurants or food stalls, equipment rentals (skates, balls, skis, etc.). Some parks work in conjunction with local recreation or educational programs to organize games or provide classes.
Good parks can raise the value of the nearby homes.
External links
Edit
Many park sites are local. These are some larger national and international organization so the focus is more on large parks than neighborhood ones.
Would you like to add some examples of good, local park site information or Web sites that might provide good ideas for others here?
Community content is available under
CC-BY-SA
unless otherwise noted.