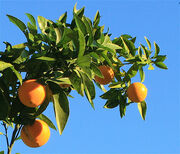 Orange oil has a more intense orange flavor and smell than orange juice. The oil comes from the rind of oranges, and it has many different uses. It provides a citrus, tangy flavor. Orange oil is also used in perfumes, household cleaners, furniture polish and some pest control.
Orange smell and taste
Edit
Orange oil can be used to flavor foods. It's an ingredient in many recipes. It's the main source of the citrus scent associated with oranges. Orange oil is used to scent many products and as a perfume.
Because it is relatively safe for humans and pets, some people prefer to use orange oil cleaners and pest control.
Caution: Some people are allergic to orange oil.
Drinking the oil can cause a stomachache. It should not be ingested in large quantities, but is a very useful flavoring.
It has some potential health benefits. It has disinfectant and anti-inflammatory properties for the skin, but can cause photosensitivity.
Orange oil can be used to remove adhesive, grease and some stains. It can also be used to polish wood furniture and floors.
Pest control
Edit
Orange oil can kill and termites, ants and roaches. Some professional pest control agencies use it.
References
Edit
Community content is available under
CC-BY-SA
unless otherwise noted.