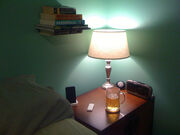 A night stand is generally a small table or dresser intended for use next to a bed. It holds the things people want next to their beds, like a lamp or bedtime reading. Some other things a night stand may hold are tissues, glasses, dentures, water, night cream (moisturizer), the contents of pockets to be put into tomorrow's clothes (e.g., wallet).
Community content is available under
CC-BY-SA
unless otherwise noted.