Sometimes when we set the table, it's fun and enjoyable to add a decorative touch with napkin folding.
Napkin folding is usually considered only when setting a formal table or for a fancy party. But it can be a fun, creative outlet. It can also keep children entertained while others finish getting the meal ready. (Homemade place cards can also serve a similar purpose.)
Napkins serve both practical purposes and decorative. A napkin can protect your clothing from spills and collect crumbs. It can also wipe up spills. And a napkin can be used to add color, reinforcing the color scheme or adding a secondary color. Since a napkin is a relatively small piece of cloth, it can be rather inexpensive to make napkins or buy paper napkins in a particular color, pattern or theme.
A related activity is towel or washcloth folding. It's not done as much in homes, but fancy hotels or cruise ships will sometimes fold the towels and washcloths, usually into animal shapes for the amusement of their guests. And it can be a fun, special treat for a child or guest.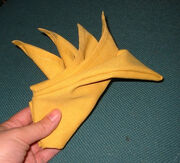 Materials
Edit
References
Edit
napkin folding on wholesale table linens.com. This site has a set of different ways to fold napkins and instructions for each.
NapkinFoldingGuide.com - some different folds with instructions and general napkin etiquette information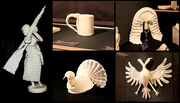 Community content is available under
CC-BY-SA
unless otherwise noted.