Nails are used in building home structures, decorating and furnishing them.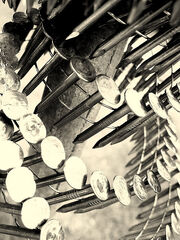 There are many different kinds of nails with features that make them more appropriate for various needs.
drywall nail
finish nail - tends to have a smaller head
pin nail
brad nail
hot-dipped galvanized nail
roofing nail - broader head to keep the thin roofing paper or shingles attached without tearing
cut nail - cut from a sheet of metal, so square or rectangular length
spikes - extra large, not used much for homes
two headed or duplex nails - have two wide spots, hammered in to the first stop, then the second remains out for easier nail removal. These nails are used for temporary uses and designed to be removed.
They come in different metals, lengths and thicknesses.
Nails can be purchased in department, craft and hardware stores. Sometimes they are sold by weight or you can pick the quantity you need out of a bin. They are also sold in sets or boxes of hundreds or thousands. Unless you are working on a major home renovation project, it probably makes sense to purchase one of the small, mixed hardware sets or by quantity of nails rather than the box.
Most modern nails are made of metal, but in older construction, like early American houses, wooden nails or pegs were sometimes used.
In general longer nails will have better holding power. A rougher texture will also increase the hold.
Kinds of nails
Commercial sites
Community content is available under
CC-BY-SA
unless otherwise noted.