A mudroom is a room or entranceway. It's used for casual or "messy" entrances. Usually it contains places to put muddy boots or shoes, wet or snowy coats and other items used in inclement weather.
Alternative way of writing: mud room
Typically the floor will be made of a material that is easy to clean or sweep up once mud or snow has been brought in on people's feet -- for instance tile, linoleum or a well finished wood flooring. Any rugs or floor mats would be designed to help wipe off the dirt and to be easily washed or cleaned. More elaborate mudrooms may have a bench to sit on, an attached closet or even a sink to provide a place to wash. Mudrooms are more commonly found in homes where there is more cold, wet weather. In warmer weather or climates, a covered porch works well to shake off the rain or wipe your shoes.
Special furnishings
Edit
Some furnishings are more likely to be found in a mudroom or near another entrance to a home. They include:
A mudroom may also be used to store supplies for outside activities, like gardening or things that you'll be taking to activities elsewhere, like sports equipment or school backpacks.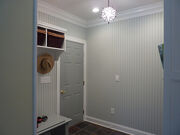 Community content is available under
CC-BY-SA
unless otherwise noted.