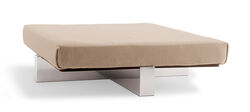 A mattress is the critical part of a bed. Mattresses provide the softness that makes a bed more comfortable to sleep on than the floor or the ground.
A mattress can be filled or stuffed with air, water, feathers, hair, straw, foam and other materials.
Community content is available under
CC-BY-SA
unless otherwise noted.