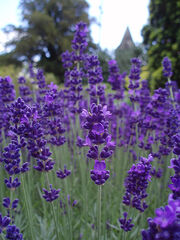 Lavender (Lavandula angustifolia, Lavandula latifolia or Lavandula officinalis) is a plant in the mint family. There's a color named after it's light violet flowers. It's also well known for its scent. The scent is reputed to have relaxing properties. It is used to perfume many household items -- soap, bath oils, drawer liners and in perfume. Some pests don't like the scent, so it is used as a repellant. And it has some medicinal properties.
Some of the medicinal properties are
headache relief
antiseptic
relaxation (reduction of stress or anxiety)
stomach calming
reduction or reversal of hair loss
While generally safe, use strong concentrations can cause harm. Lavender oil can be a skin irritant for some and poisonous. (This site is not a medical site. As with any Web site, consider the source and use caution.)
References
Edit
University of Maryland Center of Medicine's article on Lavender as a complementary medicine
US National Institutes of Health's National Center of Complementary and Alternative Medicine on Lavender
Wikipedia's article on lavender
Commercial Sites
Purple Haze Lavender Ltd. organic products and farm - with on-line store and shipping
Botanical.com: "A Modern Herbal" - By Mrs. Maud Grieve on lavenders (also available in hardcopy book form)
Community content is available under
CC-BY-SA
unless otherwise noted.