The kitchen is a very important and communal place for your family. This is why getting the best kitchen table (or dining tables is an important part of choosing your home's furniture pieces.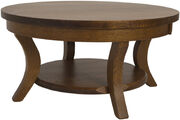 Kitchen tables or dining tables are an integral part of the dining area as it constitutes the place where family and friends will gather round to share about their lives. It is a major place of bonding and relationship building. Therefore, it is important that the kitchen table you choose will be conducive to such an experience.
Considerations
Edit
Some of the thinks to consider when selecting a table are size, make, shape, materials, styles and worth.
The first thing that people should consider when choosing the right kitchen (or dining) table is its size. Never get a kitchen table just because it's pretty — if it cannot accommodate the number of people staying in the house, it is not worth the buy. Make sure that you allot space for the number of people living at home plus a couple of extra spaces for possible guests.
The second thing to remember when choosing the right kitchen tables would be its make. Remember that if you are housing a family filled with children, it is important that your dining room table is sturdy and reliable. Organic furniture may be the way to go in this case as it is great for the environment and is made from only the highest quality of materials.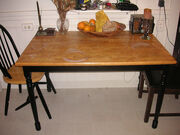 Square and rectangular tables may have sharp corners. If you have small children in your home, there are corner protectors you can buy or make. On the other hand tables with straight edges can be more easily pushed together for large get-togethers, like Thanksgiving dinner.
Materials
Edit
Tables can be made of many different materials. Wood is probably the most common, but others are plastic, metal, acrylic and stone.
Although the basics of tables are usually the same -- a flat surface or table top and four legs -- but the color, style and decorative features can make different tables look very different.
A table's worth is determined by more than the price you pay for it.
At the end of the day, the important thing is to choose your kitchen table according to your home's needs. Never get a dining table just because it looks good or it is in your favorite shade of maplewood. While physical features are important, it is more important to determine whether or not you will be able to maximize the table's use at home and if it will be worth the investment.
References
Edit
Commercial sites
Edit
Community content is available under
CC-BY-SA
unless otherwise noted.