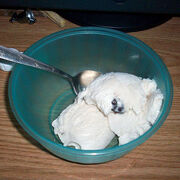 Ice cream is a wonderful hot weather treat. (It's not bad at other times too.) The definition of ice cream varies some from place to place. There are many similar treats such as frozen custard, frozen yogurt, ice cream sundaes, ice milk, ice creme (Note: the "misspelling" of creme, means that ingredients other than "cream" can be legally used.) sherbet, sorbet and gelato.
It's generally made of cream, sugar and flavors churned or stirred while chilled to a freezing temperature. Other common ingredients include fruits, nuts, sweets like carmel, and thickeners like eggs. It's also popular to put these ingredients on top as well as sauces -- like hot fudge, berry sauce, carmel or candy sprinkles.
Flavors
Related treats
ice cream sandwich
banana split
ice cream cone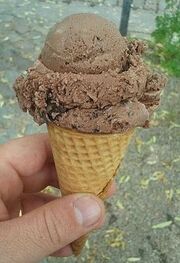 External links
Edit
Community content is available under
CC-BY-SA
unless otherwise noted.