Houseboats are one place people live. In some cultures, living on the water is common -- either on stilts or in a houseboat. In other places, a houseboat is a luxury -- a second home. Sometimes people who love to travel, select a houseboat as a way of living that allows them to move around.
Do you like the water? Do you want to live very near it?
Like other home structures, houseboats can be bought or rented.
Space on most houseboats is fairly limited. So the appliances and storage tend to be compact, and some furniture will do "double duty". Compact houses and mobile homes have some of the same issues with limited space.
Houseboats can vary quite a bit in size -- from a small boat to a large yacht.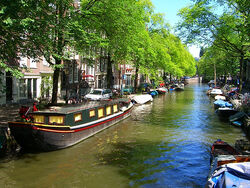 WebUrbanist.com on 17 Extreme Houseboats and House Boat Designs: From Luxury Habitats to Humble Floating Homes
Floating Homes Association "We are an Association of people who live on or own floating homes in Seattle, Washington, USA.", pictures, stories, newsletter, tours
reprint of an article, "Houseboat cruising creates enjoyable weekend getaway", by Gretchen McKay, Pittsburgh Post Gazette, Sunday, June 14, 2009
"Rental Houseboats In Paris Are Considered A Great Way To Cruise from PRLog Free Press Release
[www.nasbla.org NASBLA.org], National [U.S.] Association of State Boating Law Administrators
NPR (U.S. National Public Radio) article on Kentucky Houseboat Maker Struggles To Stay Afloat by David Greene, houseboat construction during a recession
Wikipedia's article on houseboat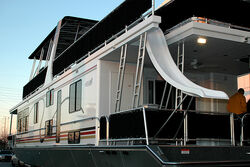 Commercial and rental sites
Community content is available under
CC-BY-SA
unless otherwise noted.