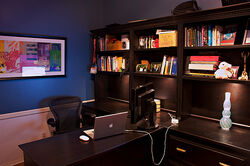 Many people work some or all of the time out of their homes. A home office can be a room or just a part of one.
An office or office-type workspace is becoming a more common part of many homes. "Modern" living requires far more paperwork than even a generation ago in many places. Many households have students who require a place to read, store paperwork, perform computer research or read online text and write up their homework for academic submission. Then there are people who work from home -- running a business out of their homes or telecommuting from home part- or full-time.
Even for people who don't do paid work from home, when there is space, it's nice to have a place that's set up for paperwork such as paying bills, tracking finances and taxes.
And even for those with another office location, some work is often brought home. Some paperwork for tracking sales, taxes, etc. will probably be necessary. So, even if you don't have a home office, it's likely you'll need some space in your home to manage paperwork.
If you're running a business out of your home, in addition to the generic office supplies, you'll need the business supplies or another place to store them and you'll probably need some forms, such as invoices, receipts, maybe scheduling forms. There are many places online with templates you can use.
Considerations
[
]
Depending on the type of work, the following may be needed:
supplies
uninterrupted time
samples (for sales)
space for visitors, demonstrations or presentations
a way to transport key materials to other work locations
ergonomic furniture
specialized storage
Supplies
[
]
The following may be needed for work at home. Depending on the type of work, the following supplies may be needed: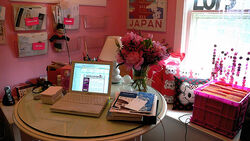 Related
[
]
References
[
]