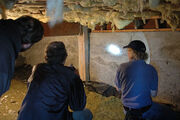 Home inspections are a recommended part of the buying process. A home inspection may be required prior to getting certain types of loans or mortgages. There are general inspections to assess the overall quality of a home and intended to find any major flaws. There are also specialized inspections to check for specific kinds of issues. Some of the specialized inspections are health or safety inspections, energy efficiency or for pest problems. An energy inspection can help pinpoint ways in which a home is not energy efficient and changes that could be made to save energy and money.
Home purchase inspection
It's a good idea to get a home inspected by a professional before purchasing it or agreeing to a final price. The inspector will let you know about the condition of the home and any problems. Depending on the scale of the problem, you may change your mind about the purchase, or you can use the information to negotiate a price that takes into account the additional work that will be needed or loss of value to the home. The fee for inspecting a home will vary as will the experience of the inspector and the kind of report the inspector delivers. Some inspectors will give you an electronic report with guidance for ongoing maintenance to keep the home in good shape. Generally it is not considered ethical for the inspector to also sell you services to repair the problems that he or she finds.
A good home inspector should be ready to climb on the roof it is's deemed safe to do so, enter the attic (and be thin enough to do so!), and enter the crawl space. Additional fees may be assessed for termite inspection, radon testing, oil tank inspection, and others, but having these tests done before the home purchase is generally considered of high recommendation.
Energy evaluation
Some organizations and municipalities will offer free energy inspections or evaluations. The results of these inspections can be used to guide home improvements that will reduce your energy bill.
Specific inspections or tests
[
]
Related
[
]
References
[
]