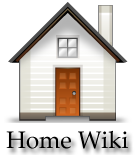 Home Wiki is about the places we live -- our homes. The intent is to cover types of homes, everything from houses to apartments, tents, apartments, condos to houseboats. It is also be about the residents of our homes, the things we do with our homes, maintenance, improvements, household chores, entertaining, and other activities we do in those places that make them feel like home.
Here are some of the categories and topics that people have contributed:
People - who make a place a home
Structures - types of buildings or shelters that can be made into a home
Furniture - kinds of furniture commonly found in a home
Decorating - ways to change the appearance of your home
Infrastructure - components that make the structure function: electricity, plumbing, etc.
How to make a shelter into a home - making it comfy, safe, a place you want to be -- what's a good name for related category (or categories)? What makes a place a home?
Uses of a home - shelter, entertaining
Other: household chores, maintenance, improvements, "how to", helpful hints, buying a house (or condo or...), selecting an apartment, cleaning, home automation and home inspection, quotes about "home"
What other content would you like to see here?
Administrators can help you around Home Wiki. They are just like a regular user, but they have a few special responsibilities and privileges. Feel free to contact one if you need any help! To find a list of administrators go to Special:Listadmins.
Community content is available under
CC-BY-SA
unless otherwise noted.