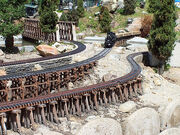 One thing that can make spending time in your home fun is when it supports the hobbies you enjoy.
Hobbies:
playing games, including card games and sports, fishing, bicycling
baking, including cake decorating or other fancy creations
playing music or musical instruments (piano)
decorative: origami, painting, making stained glass objects
collecting stamps, coins, dishes and various decorative items
crafts, including book binding, pottery, stained glass work, quilting
constructing or building: woodworking, radio controlled models
setting up audio-video or gaming systems (Home theater, etc.)
Hobbies provide entertainment. Some are educational or help people learn skills. Sometimes the skills learned from a hobby can be useful in a job setting, in fixing up a home; they can develop skills that make someone more independent (e.g., cooking) or saving money by doing something yourself instead of hiring someone. Some hobbies can even become a fundraiser or job. So, hobbies can be useful in addition to providing enjoyment.
See the Hobbies category for more articles.
Related wikia
Community content is available under
CC-BY-SA
unless otherwise noted.