A hanger holds clothing. It provides one alternative to drawers, hooks, wall pegs, chests and other ways to store clothing.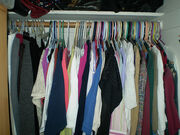 There are different kinds of hangers. Some are specially designed for hanging specific articles of clothing, pants, skirts, suits, etc. Hangers are made of metal, often wire, plastic, or wood. Some are padded or have a coating made of cloth to keep clothes from slipping off them. Others have clips, special hooks or curves to help hold clothes on or to help them keep their proper shape.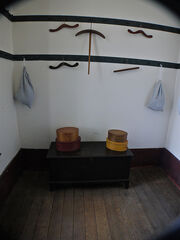 Community content is available under
CC-BY-SA
unless otherwise noted.