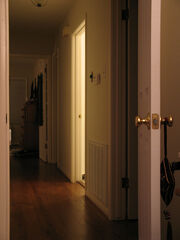 A hall or hallway is a passage or connecting space between rooms. It can be large and grand or narrow and functional. A hall usually doesn't have much furniture or furnishing. However, it may be used to display pictures or have furniture to support the transition from one space to another, like a coat rack or umbrella stand.
Sometimes a hall is considered a room in the house; sometimes it's just a passage. Other uses of the term hall are a multi-purpose room for gatherings, such as a dance hall or dining hall, or as the name of a building such as Blodgett Hall, for an academic building.
Community content is available under
CC-BY-SA
unless otherwise noted.