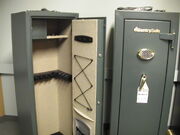 A
gun safe
is a storage space where
guns
can be locked up to protect from unsafe use. It keeps children from harm. A gun safe provides a place where someone who must have guns in the home can keep them stored and out of the wrong hands.
Gun safes come in all shapes and sizes. They range from small single handgun safes to large multi-rifle cabniet safes. Some safes can even be hidden under beds or in walls. 
Different safes also lock in different ways. The main types of locking mechanisms are:
key lock
combination lock
keypad lock
biometric (fingerprint) lock
Most locks that require an electrical power source to function, like an electronic keypad lock, also come with a backup key lock. If you plan on purchasing a gun safe with some form of electronic lock, make sure you know how to open the safe if the power source fails.
Gun safes can usually be purchased where guns are legally sold. They can also be purchased from the Internet and other department stores.
External links
Edit
Community content is available under
CC-BY-SA
unless otherwise noted.