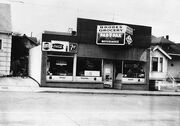 Grocery shopping is one of the chores that is part of most home's keeping.
Traditionally in larger towns or cities, a grocery store sold "groceries", that was, produce from farms: vegetables, fruit, maybe some eggs and dairy products. Meat would be bought at the butcher's; beer, wine or liquor at a liquor store, pub, bar or from the maker; flour, sugar and other items from a "dry goods" store; medicines from the pharmacy, and so on. But the general store in small towns or modern supermarket carries all those things and more. Now "grocery shopping" refers to the broader category of food other "consumables".
Also, traditionally with fewer ways to store fresh food over periods of time (less refrigeration, air-vacuumed packaging, etc.) shopping trips for households tended to be more frequent.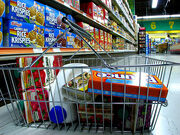 References
Edit
Many places will let you send in an order electronically and deliver the groceries to you. Here are a few sites where you can do that:
Community content is available under
CC-BY-SA
unless otherwise noted.