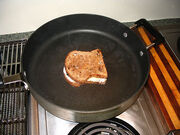 A
grilled cheese sandwich
is a
comfort food
.
Recipe
The most basic grilled cheese sandwich is made by putting two pieces of bread together with sliced cheese in between, then putting some butter or oil on the outside and grilling on a hot surface until the cheese gets gooey.
Some optional ingredients are mustard, tomatoes, pickles. Other ways to change the taste are with different kinds of bread, cheese, butter or oil.
Other heating methods can be used. One common variation is an oven toasted cheese sandwich.
Related