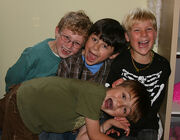 One of the most fun things you can do with a home is to invite your friends over to visit.
Friends can be long-term guests or just come over for dinner, a short visit, or a party.
Sometimes friends will also be your housemates.
Depending on your lifestyle, the facilities in your home for entertaining may be an important consideration in selecting, decorating and furnishing your space. The kinds of space you need for entertaining depend on what you like to do with your friends. Do you like to play cards? If so a card table and space to set it up with chairs could be useful. Do you enjoy making meals together? That may require kitchen space that permits many cooks. Do you like having overnight guests and need space for guests to sleep? (See related topics, guest room, secondary suite or futon.)
Quote


A friend is one who walks in when others walk out
-- Walter Winchell
Some apartments or condominiums have common spaces that can be reserved or rented for throwing parties.
If you're lucky, some of your neighbors may also be friends.
Community content is available under
CC-BY-SA
unless otherwise noted.