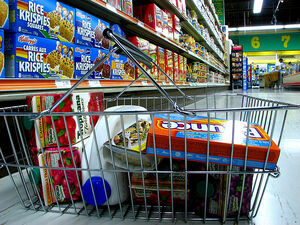 The following lists cover some of the foods that you might wish to keep around.
Keeping and using a grocery shopping list can help you reduce the number of shopping trips you need to make because you forgot something and can save you money by reducing the number of impulsive purchases.
Most of the food staples below can be purchased in advance and kept in the house. Some of the dairy items, vegetables and fruits will only keep for a limited time and must be replenished more frequently.
List suggestions
Edit
You'll need to adjust the following list to fit your needs, but here are some ideas to start you off. When turning this into your shopping list, one additional suggestion is that you order the sections so they match the order that you walk through the layout in the store where you shop.
Dry goods for baking
Edit
Meal basics
Edit
Condiments
Edit
Produce - Vegetables and Fruits
Edit
By keeping some produce that comes in cans or jars you can make sure that you have something that can be kept around for awhile, reducing the need for an "emergency" shopping trip. But fresh produce is probably healthier and tastier.
What foods do you consider essential to keep around the kitchen or in your home?
Community content is available under
CC-BY-SA
unless otherwise noted.