A fireplace can serve multiple purposes in a home. It provides heat and light. You can cook on it. You can meditate and stare into the flames.
Useful fireplace tools include a shovel, broom, poker and tongs. You should also have a screen that can be put in front of it to prevent fire hazards from sparks or logs rolling out.
Fireplaces can be made of different materials, including brick, stone (marble, limestone and other), metal.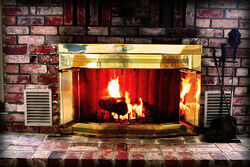 In general, chimneys should be cleaned and inspected at least once a year to make sure they will be safe and not cause an unintentional house fire. Chimneys are designed differently depending on the types of materials they burn.
Depending on the type of fireplace, it could burn wood (logs), charcoal, gas or wood pellets.
In modern homes, fireplaces are mostly for decorative or aesthetic enjoyment. In less "developed" places, a fireplace is used for cooking and heating
Safety
[
]
According to the U.S. Fire Administration, over one third of the rural house fires each year are started by heating fires. Keeping fireplaces or wood burning stoves clean and controlling the fires is important to the safety of your home.
Annual inspection is important to make sure that the fireplace and chimney are clean -- especially from creosote build-up and that any insulation and piping is in place.
Other ideas
[
]
"If you have a wood-burning fireplace, save the ashes in a tin instead of throwing them away. Cold wood ashes can be mixed in your compost heap to create a valuable soil amendment that provides nutrients to your garden." [1]
Related
[
]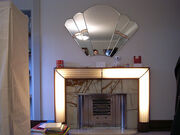 fireplace screen

fake fireplace

fireplace mantel
References
[
]