An important part of home safety is eliminating or reducing fire hazards. That is, identifying situations which could cause an undesirable, out-of-control fire, and changing the situation to make it less likely. This reduces the chance that residents or possessions will be damaged. Some actions may have other beneficial effects, like reducing the cost of your home insurance.
Hazard sources
Edit
Outside sources, like a forest fire in the neighborhood, can be added here too. Have you got something to add?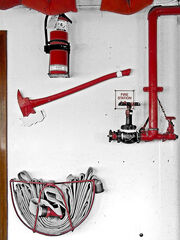 Safety devices
Edit
References
Edit
Community content is available under
CC-BY-SA
unless otherwise noted.