There are many different famous homes, and they are famous for different reasons. A home can be famous because of the people who live in it or lived in it previously. Some homes are the official residence of a particular official, such as the governor's house, the king's palace or the college president's residence. These tend to be a bit grander than normal homes because they include rooms for parties or official receptions. Then there are homes that are famous because of events that took place there. Other homes are famous due to special architectural features. They could be a good example of a particular architectural style or architect. Or they could be an example of where the "normal" attributes of a home don't apply. It could be unusual in terms of size, layout, color, location, age, style or in another way. Some famous homes are fictional; they tend to be well known because they are key to a well known work of fiction. Some of the following houses could fit into more than one category.
U.K. political
Edit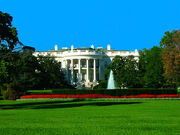 U.S. political
Edit
Architectural
Edit
Historical
Edit
Fictional
Edit
Harry Potter
Edit
Articles on the Harry Potter wiki:
External links
Edit
Community content is available under
CC-BY-SA
unless otherwise noted.