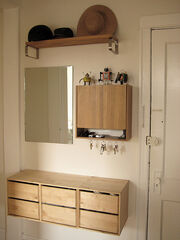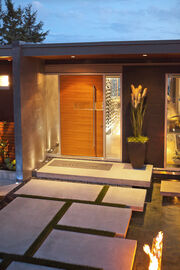 The entrance to your home creates a first impression. It can also affect your mood when you come home. In real estate, this is also called "curb appeal". When selling a house, it is usually considered a critical factor in the ability to sell a house quickly and for a good price. Touch-ups to the approach and entrance are a worthwhile investment for sellers.
The entrance to a home can be placed on a street or sidewalk or set back within a yard or other property. Some entrances are placed on a higher position of houses with multiple floors which may lead to going down to the floor by either stairs, ladder or by falling onto it with walls. Without these 2, the entrance would be made impossible to exit through.
Sometime the entrance brings you directly into a room, other times you come into a front hallway. Some houses have a mud room or small entrance room that's set up to be a place to deposit outer, protective clothing or shoes. It's useful to have someplace to wipe your shoes and perhaps a place to take them off and leave them near the entrance rather than tracking in dirt. In some cultures, it is unacceptable to wear "street shoes" in a home.
"Making an entrance" would be to enter a room in a grand gesture, usually as an introductory sign of confidence and extravagance.
In many homes, there's a formal, "front" entrance and another entrance. In some places that other entrance is the one more frequently used by the residents and close friends.
References
Edit
Community content is available under
CC-BY-SA
unless otherwise noted.