A doghouse is usually a small, simple, stand-alone structure to provide shelter for an outside dog. A good doghouse provides protection from the damp -- rain or snow -- a warmable space for winter and a shady place for summer. Placing the doghouse next to another structure or house can allow it to take advantage of the heat or cooling from the other building and some shelter from the larger overhanging roof.
A doghouse should be large enough that the dog is not claustrophobic and small enough that it can be warmed by the dog's body heat.
Start by measuring your dog's length and height. The recommendation from Ron Hazelton's site is that the house should be 12" wider than the dog's length and 18" longer.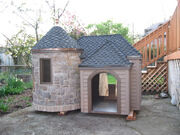 Furnishings
Edit
The house should have room for a few dog toys. It should have some padding -- a blanket or old towels -- to provide something soft to lie on and something that will help hold heat.
Food and water
Edit
Generally, food and water should not be kept inside the doghouse. If they are outside, it's easier to monitor when they are empty, and most humans will find it easier to refill containers on the outside. And keeping the food and water outside the doghouse won't mess it up as badly when it spills. In the winter it's important to make sure sufficient water is provided, and that it's available for drinking rather than frozen. In the summer, water is key to avoiding dehydration.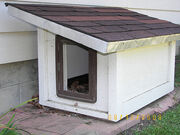 References
Edit
Community content is available under
CC-BY-SA
unless otherwise noted.