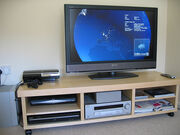 The digital television or DATV (Digital television) is an electronic with sending and receiving of moving images and sound by discrete (digital) signals, in contrast to the analog signals used by analog TV.
The digital era gave way to better quality and convenience for the television.
External linksEdit
See the article on television on the wiringup wikia.