The living room is the busiest part of your house. Since it has the TV there and the books too, people who love to read or watch television will always be found in the living room. Moreover it will serve as a cozy conversation corner for all your family talks. It is the hub of the entire hustle-bustle going on around the house.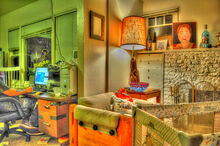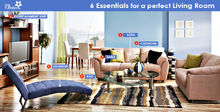 Some fantastic living room design ideas are:
§ The color scheme of the living room should be such that it makes the room bright and full of live. The furniture and linens should be chosen keeping the theme in mind. The upholstery of the furniture should be chosen wisely because the sofa will be facing maximum wear and tear due to regular usage.  If there are small kids in the house, it is always a good choice to buy dark colored furniture and linens so that maintain a clean look is not that tough.
§  The furniture pieces should always complement each other. Furniture can be bought from various stores depending on the taste and preferences of individuals. But then the designs should be such that they don't look mismatched with each other. If you have a traditional décor, stick buying furniture that has a traditional décor but you can always include some modern furniture and make it look like the focal point of the entire room.
§  Make sure you don't not mix and match too many style of furniture together. Do not mix too many colors, prints and textures. The symmetry of the furniture should be such that it gives the living room a coordinated look.
§  Make the living room come alive by fixing proper lights. The rooms should be properly lighted, so make sure you use the right tube lights, bulbs and chandeliers. The light emitted out should make the room a much brighter and livelier place.
§  If your budget allows, take the services of an interior designer. By looking at the various living room design pictures, you can select one according to your choice and give a unique touch to the living room.
§  Choose the size and the shape of your furniture depending on the size of the room. The living room can also be the most versatile room of the entire house since it can instantly be made into a bedroom by sliding the bed out of the sofa cum bed. Also this room can be made into an additional guest room when required.
The living room design will always be the most noticeable part of the house, since you will entertain your guests here. So make sure you do it in style that is different and unique.
External References:
Living Room on http://www.touchwood-furniture.com
Living Room essentials on http://www.touchwood-furniture.com
[3]
Living Room Ideas on Decor10blog
Community content is available under
CC-BY-SA
unless otherwise noted.