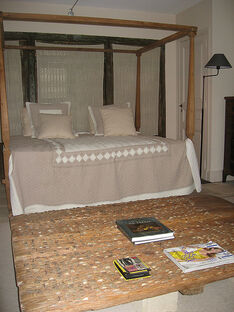 A daybed is a bed that becomes a couch or sitting place during the day. A daybed is useful in a room that is used for other purposes and also serves as a guest room when needed. So it serves as a seat when the room is being used for other activities. A daybed is especially helpful when you have limited home space, such as a dorm or small apartment where each space must serve multiple purposes.
A regular bed often has a frame, but it isn't required. A daybed usually needs the frame so that it has a back and sides when it's being used for other purposes. A daybed may also have extra pillows to go along the back, or it can fold-up futon-style to create those "edges".
A daybed can also provide a useful surfaces for things like folding and sorting clean clothes. It can make a room into a place to watch TV or read. Because of the multiple purposes, it gives you more flexibility for the use of the room and the overall flow or use of places within your home.
Most daybeds use a standard twin-sized mattress and bedding.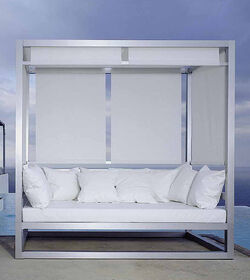 Community content is available under
CC-BY-SA
unless otherwise noted.