A crib is a bed for babies. It is usually smaller than a full sized bed and has sides or rails to keep the little ones from falling out.
Terminology
Edit
The term crib is also used sometimes to refer to a home. (See the synecdoche article on the symbolism wikia.)
The term cot is also used by some to refer to what this article calls a crib.
Considerations
Edit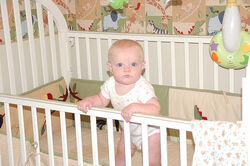 Safety: Railings with too much space between them allow babies to stick their heads through the bars, and they can be strangled. Rails or sides must be sturdy enough to stay in place when a baby, toddler or slightly older sibling hangs on them. When a rail can be lowered or removed to provide access to the baby, it should stay in place and not smash fingers when being reset.
Access: Caretakers should be able to put the baby into or take the baby out of the crib easily.
Sturdiness: Can it hold up to a bouncing baby or toddler?
Reference
Edit
Community content is available under
CC-BY-SA
unless otherwise noted.