A cot is usually a lightweight bed. It is often heavyweight (or strong) cloth or netting stretched over a foldable or collapsable framework. Cots are designed to be easily transported and stored. So, they are used by groups like armies and emergency rescue organizations. Cots are also used by some campers.
Cots are also useful as additional sleeping space for guests that can be put away when not in use. Cots used for guests do not usually need to be as easily transported over rough terrain, so they may weigh more than a lightweight camping or military cot. They may also have wheels or a mattress that fits the framework. Specially sized linens for cots may fit better than normal sheets, but twin sized bedding will usually work.
Sheets are made in special sizes to fit cots. Regular bed sheets may be used, but even a twin sized bed is usually thicker and wider than a cot, so its fitted sheet will be loose and the flat sheet will be long and may drag on the ground.
An air mattress is sometimes used on top of a cot for additional comfort.
The term cot is also sometimes used to refer to a baby's bed or crib.
Most uses of cots are temporary.
Considerations
Edit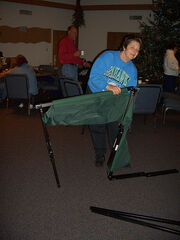 comfort when set up
light weight (for carrying, traveling)
size when stored
sturdiness
ease of set-up and dismantling
Community content is available under
CC-BY-SA
unless otherwise noted.