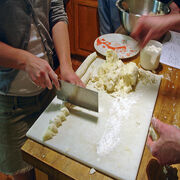 Eating is a core home activity and in preparation for eating... cooking is a fairly useful activity.
Specifically, cooking is preparing food with heat -- baking, grilling, boiling. However, the term cooking is often used more broadly to refer to any preparation of food, even cold foods like sandwiches and salads.
Cooking at home can provide many benefits:
Home cooking often has fewer unhealthy additives.
It provides a good basis for family dinners.
You can tailor the food the way you like it.

For instance, if you like your food spicy, you can make it that way.
You select the menu.
You can serve the dishes all at once or in the order you prefer and at the speed you want. No waiting on a slow waiter or being interrupted during a good conversation with questions about whether you're ready for the bill now.

Most people are better at portion control with home meals.
Community content is available under
CC-BY-SA
unless otherwise noted.