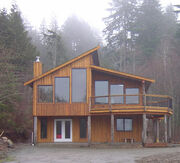 Contemporary Style homes are modern-era houses and became popular in the 1960's and 1970's.
The style tends to include large plate glass windows, metal or concrete. Some may have a more "natural" look using wood or stone to fit into surroundings. The shapes are often geometric (pyramid, block or round) in ways that would not have been possible with previous building techniques. They tend to be asymmetric. Large windows and sliding glass doors allowing for much natural lighting and a "clean" smooth look for both the shape of the home and the landscaping are common. A "flow" between the inside and outside as well as an internal flow is facilitated by large doorways and open plan internal spaces.
In contrast to the "natural" materials that are often used, are the "industrial" materials and style components, such as stainless steel and very smooth, unadorned or minimalist look. "Modern" furnishings fit well with this style.
Styles
[
]
Other home styles:
Related
[
]
External sites
[
]