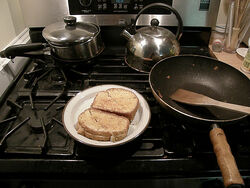 The "comforts of home" are some of the things that make a place (structure) a home. Of course there are other factors that make a home... family, a feeling of security, history. Some things provide a tangible reminder of those feelings. Other things are physically comfortable and less important from an emotional perspective: soft blankets, warm drinks or sunny corners with a comfortable chair.
Is there an object that makes a place feel safe, settled, loving or in other ways make it feel like home to you? For a child, it may be a pacifier, stuffed animal or baby blanket. For a pet, it might be a safe place, like under a skirted table. For an adult, it may be less of a feeling of safety, and more a sense of roots, something like a family bible or heirloom (furniture, jewelry, furnishings that have been handed down the family) or made by family members (Grandmother's quilt or Danny's most recent crayon picture).
Community content is available under
CC-BY-SA
unless otherwise noted.