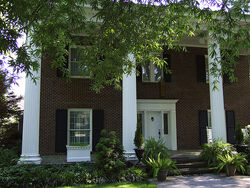 Colonial style seems to have come to mean rectangular, two-story houses. More traditionally, a colonial is a style found in the U.S., which would also have certain stylistic characteristics, such as the main entrance in the front, center with symmetric windows, and optionally, wings on both sides. The front, especially the entrance, may have columns and decorations associated with patriotic themes -- eagles, coats of arms or flags. The exterior is often brick.
Internally, the "public rooms", like the living room, dining room or parlor are on the ground floor -- generally with more formal rooms closer to the front of the house. The centrally placed front door opens on a hallway with stairs to the upper floor (and sometimes a basement or "powder room" in more modern homes). The kitchen is likely to be at the back of the ground floor. Bedrooms are normally upstairs in a colonial style house. Full bathrooms, that is ones that include a shower or bathtub as well as the toilet and sink, are usually upstairs. Converted space in the attic or basement may be used for casual rooms, like playrooms or dens.
References
Edit
Community content is available under
CC-BY-SA
unless otherwise noted.