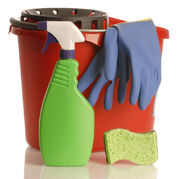 People use a wide variety of cleaning supplies to care for and clean their homes.
Some common supplies are
Some less common, but useful supplies are
WD30 or similar oil based lubricant
Tools
Protective materials
Then there are the items that protect the things that aren't being cleaned.
General techniques
Edit
Testing
In many cases it's a good idea to test a particular cleaning technique or material on a small, less visible spot before using it more. For instance, you could test a cleaner on the back of a piece of furniture to make sure it doesn't remove the finish or change it in some way. Similarly, you can test a soap or cleaner on a piece of clothing on a part that won't be seen when it's worn, like the tail of a shirt that will be tucked in.
See the categories for cleaning and cleaning tips.
Community content is available under
CC-BY-SA
unless otherwise noted.