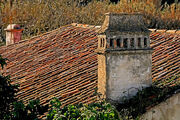 At its simplest, a chimney is a vent for hot gases or smoke. Homes have chimneys for fireplace smoke and for gases from burning something to heat the air or water for the structure.
It is best to clean the chimney regularly after a long period of use due to the build up of carbon which may prove harmful to the body if there is a high level.
When chimneys are not in use for an extended period of time, people may fit in a chimney balloon. This keeps the heat from the home escaping and keeps the cold from getting in. Before using the fireplace again, make sure the chimney is clear—no nesting birds or clogging leaves for example.
If you do not wish to have air coming through the chimney, it is best to cover up the chimney breast with an air brick or air vent. (A chimney breast is the part of a wall that sticks forward out of a wall around a fireplace—usually at the base of the chimney.) It is recommended to block the opening of the chimney from above to avoid a draft or rain coming in. Ventilation is also crucial as to avoid carbon build up or damp.
A chimney cap fits over the top, outlet of a chimney. It can keep water out, birds from nesting in the chimney and sparks from getting out.
References
Edit
Chimney 101 - "Here is some more info to help find out why the heck your chimney don't work." from the commercial site Chimney Cap Source (some other basic info on that site)
Community content is available under
CC-BY-SA
unless otherwise noted.